Variational Monte Carlo is one of the most accurate methods to solve the many-electron Schrödinger equation, but suffers from high computational cost. A recent study uses a weight-sharing technique to accelerate the neural network-based variational Monte Carlo method, allowing accurate and effective simulations of molecules.
This is a preview of subscription content
Access options
Subscribe to Journal
Get full journal access for 1 year
92,52 €
only 7,71 € per issue
All prices are NET prices.
VAT will be added later in the checkout.
Tax calculation will be finalised during checkout.
Buy article
Get time limited or full article access on ReadCube.
$32.00
All prices are NET prices.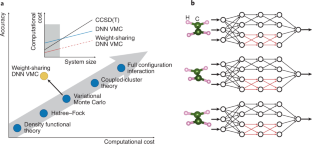 References
Griffiths, D. J. & Schroeter, D. F. Introduction to Quantum Mechanics (Cambridge Univ. Press, 2018).

Foulkes, W., Mitas, L., Needs, R. & Rajagopal, G. Rev. Mod. Phys. 73, 33 (2001).

Carleo, G. & Troyer, M. Science 355, 602–606 (2017).

Kessler, J., Calcavecchia, F. & Kühne, T. D. Adv. Theory Simul. 4, 2000269 (2021).

Han, J., Zhang, L. & Weinan, E. J. Comput. Phys. 399, 108929 (2019).

Pfau, D., Spencer, J. S., Matthews, A. G. & Foulkes, W. M. C. Phys. Rev. Res. 2, 033429 (2020).

Gao, N. & Günnemann, S. Preprint at https://arxiv.org/abs/2110.05064 (2021).

Hermann, J., Schätzle, Z. & Noé, F. Nat. Chem. 12, 891–897 (2020).

Scherbela, M., Reisenhofer, R., Gerard, L., Marquetand, P. & Grohs, P. G. Nat. Comput. Sci. https://doi.org/10.1038/s43588-022-00228-x (2022).

Bartlett, R. J. & Musiał, M. Rev. Mod. Phys. 79, 291 (2007).

Huang, B. & von Lilienfeld, O. A. Chem. Rev. 121, 10001–10036 (2021).
Ethics declarations
Competing interests
The author declares no competing interests.
About this article
Cite this article
Tran, H. Accelerating quantum molecular simulations. Nat Comput Sci 2, 292–293 (2022). https://doi.org/10.1038/s43588-022-00237-w
Published:

Issue Date:

DOI: https://doi.org/10.1038/s43588-022-00237-w