Scallop2, a tool that enables accurate reference-guided transcriptome assembly, capitalizes on recent developments in short-read sequencing protocols for single-cell RNA sequencing by leveraging multi-end and paired-end information.
This is a preview of subscription content
Access options
Subscribe to Journal
Get full journal access for 1 year
92,52 €
only 7,71 € per issue
All prices are NET prices.
VAT will be added later in the checkout.
Tax calculation will be finalised during checkout.
Buy article
Get time limited or full article access on ReadCube.
$32.00
All prices are NET prices.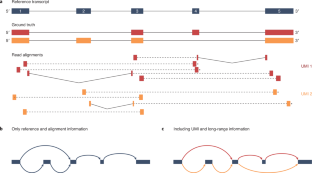 References
Conesa, A. et al. Genome Biol. 17, 13 (2016).

Luecken, M. D. & Theis, F. J. Mol. Syst. Biol. 15, e8746 (2019).

Aldridge, S. & Teichmann, S. A. Nat. Commun. 11, 4307 (2020).

de Klerk, E. & 't Hoen, P. A. C. Trends Genet. 31, 128–139 (2015).

Lebrigand, K., Magnone, V., Barbry, P. & Waldmann, R. Nat. Commun. 11, 4025 (2020).

Martin, J. et al. BMC Genomics 11, 663 (2010).

Zhang, Q., Shi, Q. & Shao, M. Nat. Comput. Sci. https://doi.org/10.1038/s43588-022-00216-1 (2022).

Hagemann-Jensen, M. et al. Nat. Biotechnol. 38, 708–714 (2020).

Heber, S., Alekseyev, M., Sze, S.-H., Tang, H. & Pevzner, P. A. Bioinformatics 18 Suppl 1, S181–S188 (2002).

Westoby, J., Artemov, P., Hemberg, M. & Ferguson-Smith, A. Genome Biol. 21, 74 (2020).
Ethics declarations
Competing interests
The authors declare no competing interests.
About this article
Cite this article
Parada, G.E., Hemberg, M. Bridge over troubled transcripts. Nat Comput Sci 2, 142–143 (2022). https://doi.org/10.1038/s43588-022-00219-y
Published:

Issue Date:

DOI: https://doi.org/10.1038/s43588-022-00219-y