Abstract
The gut microbiota of preterm infants develops predictably1,2,3,4,5,6,7, with pioneer species colonizing the gut after birth, followed by an ordered succession of microorganisms. The gut microbiota is vital to the health of preterm infants8,9, but the forces that shape these predictable dynamics of microbiome assembly are unknown. The environment, the host and interactions between microorganisms all potentially shape the dynamics of the microbiota, but in such a complex ecosystem, identifying the specific role of any individual factor is challenging10,11,12,13,14. Here we use multi-kingdom absolute abundance quantification, ecological modelling and experimental validation to address this challenge. We quantify the absolute dynamics of bacteria, fungi and archaea in a longitudinal cohort of 178 preterm infants. We uncover microbial blooms and extinctions, and show that there is an inverse correlation between bacterial and fungal loads in the infant gut. We infer computationally and demonstrate experimentally in vitro and in vivo that predictable assembly dynamics may be driven by directed, context-dependent interactions between specific microorganisms. Mirroring the dynamics of macroscopic ecosystems15,16,17, a late-arriving member of the microbiome, Klebsiella, exploits the pioneer microorganism, Staphylococcus, to gain a foothold within the gut. Notably, we find that interactions between different kingdoms can influence assembly, with a single fungal species—Candida albicans—inhibiting multiple dominant genera of gut bacteria. Our work reveals the centrality of simple microbe–microbe interactions in shaping host-associated microbiota, which is critical both for our understanding of microbiota ecology and for targeted microbiota interventions.
This is a preview of subscription content
Access options
Subscription info for Chinese customers
We have a dedicated website for our Chinese customers. Please go to naturechina.com to subscribe to this journal.
Buy article
Get time limited or full article access on ReadCube.
$32.00
All prices are NET prices.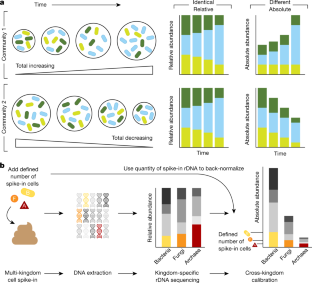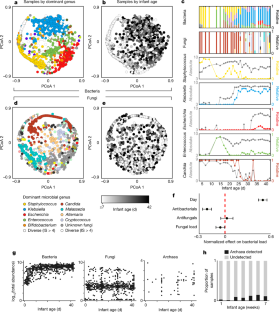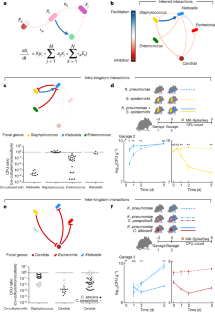 Data availability
All Illumina raw sequencing reads, including cohort samples and validation samples, have been deposited at the European Nucleotide Archive (ENA) under study accession number PRJEB36435. Source data for all figures are included in the Supplementary Tables. The public rDNA databases SILVA (119 release; https://www.arb-silva.de/documentation/release-119/) and UNITE (2017-12-01 release; https://unite.ut.ee/repository.php) were used to annotate the operational taxonomic unit (OTU) table.
References
1.

Charbonneau, M. R. et al. A microbial perspective of human developmental biology. Nature 535, 48–55 (2016).

2.

Bäckhed, F. et al. Dynamics and stabilization of the human gut microbiome during the first year of life. Cell Host Microbe 17, 690–703 (2015).

3.

Stewart, C. J. et al. Temporal development of the gut microbiome in early childhood from the TEDDY study. Nature 562, 583–588 (2018).

4.

Derrien, M., Alvarez, A. S. & de Vos, W. M. The gut microbiota in the first decade of life. Trends Microbiol. 27, 997–1010 (2019).

5.

Yatsunenko, T. et al. Human gut microbiome viewed across age and geography. Nature 486, 222–227 (2012).

6.

Lim, E. S. et al. Early life dynamics of the human gut virome and bacterial microbiome in infants. Nat. Med. 21, 1228–1234 (2015).

7.

Palmer, C., Bik, E. M., DiGiulio, D. B., Relman, D. A. & Brown, P. O. Development of the human infant intestinal microbiota. PLoS Biol. 5, e177 (2007).

8.

Lynch, S. V. & Pedersen, O. The human intestinal microbiome in health and disease. N. Engl. J. Med. 375, 2369–2379 (2016).

9.

Honda, K. & Littman, D. R. The microbiota in adaptive immune homeostasis and disease. Nature 535, 75–84 (2016).

10.

Fischbach, M. A. Microbiome: focus on causation and mechanism. Cell 174, 785–790 (2018).

11.

Widder, S. et al. Challenges in microbial ecology: building predictive understanding of community function and dynamics. ISME J. 10, 2557–2568 (2016).

12.

Vrancken, G., Gregory, A. C., Huys, G. R. B., Faust, K. & Raes, J. Synthetic ecology of the human gut microbiota. Nat. Rev. Microbiol. 17, 754–763 (2019).

13.

Walter, J., Armet, A. M., Finlay, B. B. & Shanahan, F. Establishing or exaggerating causality for the gut microbiome: lessons from human microbiota-associated rodents. Cell 180, 221–232 (2020).

14.

Wolfe, B. E., Button, J. E., Santarelli, M. & Dutton, R. J. Cheese rind communities provide tractable systems for in situ and in vitro studies of microbial diversity. Cell 158, 422–433 (2014).

15.

Connell, J. H. & Slatyer, R. O. Mechanisms of succession in natural communities and their role in community stability and organization. Am. Nat. 111, 1119–1144 (1977).

16.

Bertness, M. D. & Callaway, R. Positive interactions in communities. Trends Ecol. Evol. 9, 191–193 (1994).

17.

Shade, A. et al. Macroecology to unite all life, large and small. Trends Ecol. Evol. 33, 731–744 (2018).

18.

Gregory, K. E. et al. Influence of maternal breast milk ingestion on acquisition of the intestinal microbiome in preterm infants. Microbiome 4, 68 (2016).

19.

Gibson, M. K. et al. Developmental dynamics of the preterm infant gut microbiota and antibiotic resistome. Nat. Microbiol. 1, 16024 (2016).

20.

DiBartolomeo, M. E. & Claud, E. C. The developing microbiome of the preterm infant. Clin. Ther. 38, 733–739 (2016).

21.

La Rosa, P. S. et al. Patterned progression of bacterial populations in the premature infant gut. Proc. Natl Acad. Sci. USA 111, 12522–12527 (2014).

22.

Costello, E. K., Carlisle, E. M., Bik, E. M., Morowitz, M. J. & Relman, D. A. Microbiome assembly across multiple body sites in low-birthweight infants. MBio 4, e00782-13 (2013).

23.

Stewart, C. J. et al. Temporal bacterial and metabolic development of the preterm gut reveals specific signatures in health and disease. Microbiome 4, 67 (2016).

24.

Pammi, M. et al. Intestinal dysbiosis in preterm infants preceding necrotizing enterocolitis: a systematic review and meta-analysis. Microbiome 5, 31 (2017).

25.

Gasparrini, A. J. et al. Persistent metagenomic signatures of early-life hospitalization and antibiotic treatment in the infant gut microbiota and resistome. Nat. Microbiol. 4, 2285–2297 (2019).

26.

Reynolds, L. A. & Finlay, B. B. Early life factors that affect allergy development. Nat. Rev. Immunol. 17, 518–528 (2017).

27.

Gensollen, T., Iyer, S. S., Kasper, D. L. & Blumberg, R. S. How colonization by microbiota in early life shapes the immune system. Science 352, 539–544 (2016).

28.

Bokulich, N. A. et al. Antibiotics, birth mode, and diet shape microbiome maturation during early life. Sci. Transl. Med. 8, 343ra82 (2016).

29.

Shao, Y. et al. Stunted microbiota and opportunistic pathogen colonization in caesarean-section birth. Nature 574, 117–121 (2019).

30.

Pasolli, E. et al. Extensive unexplored human microbiome diversity revealed by over 150,000 genomes from metagenomes spanning age, geography, and lifestyle. Cell 176, 649–662 (2019).

31.

The Integrative HMP (iHMP) Research Network Consortium. The Integrative Human Microbiome Project. Nature 569, 641–648 (2019).

32.

Nash, A. K. et al. The gut mycobiome of the Human Microbiome Project healthy cohort. Microbiome 5, 153 (2017).

33.

Limon, J. J., Skalski, J. H. & Underhill, D. M. Commensal fungi in health and disease. Cell Host Microbe 22, 156–165 (2017).

34.

Koskinen, K. et al. First insights into the diverse human archaeome: specific detection of Archaea in the gastrointestinal tract, lung, and nose and on skin. MBio 8, 00824-17 (2017).

35.

Durán, P. et al. Microbial interkingdom interactions in roots promote Arabidopsis survival. Cell 175, 973–983 (2018).

36.

Carr, A., Diener, C., Baliga, N. S. & Gibbons, S. M. Use and abuse of correlation analyses in microbial ecology. ISME J. 13, 2647–2655 (2019).

37.

Contijoch, E. J. et al. Gut microbiota density influences host physiology and is shaped by host and microbial factors. eLife 8, e40553 (2019).

38.

Vandeputte, D. et al. Quantitative microbiome profiling links gut community variation to microbial load. Nature 551, 507–511 (2017).

39.

Stämmler, F. et al. Adjusting microbiome profiles for differences in microbial load by spike-in bacteria. Microbiome 4, 28 (2016).

40.

Ishwaran, H. & Rao, J. S. Spike and slab variable selection: frequentist and Bayesian strategies. Ann. Stat. 33, 730–773 (2005).

41.

Gonze, D., Coyte, K. Z., Lahti, L. & Faust, K. Microbial communities as dynamical systems. Curr. Opin. Microbiol. 44, 41–49 (2018).

42.

Bucci, V. et al. MDSINE: Microbial Dynamical Systems INference Engine for microbiome time-series analyses. Genome Biol. 17, 121 (2016).

43.

Freilich, M. A., Wieters, E., Broitman, B. R., Marquet, P. A. & Navarrete, S. A. Species co-occurrence networks: can they reveal trophic and non-trophic interactions in ecological communities? Ecology 99, 690–699 (2018).

44.

Friedman, J. & Alm, E. J. Inferring correlation networks from genomic survey data. PLOS Comput. Biol. 8, e1002687 (2012).

45.

Faust, K. et al. Microbial co-occurrence relationships in the human microbiome. PLOS Comput. Biol. 8, e1002606 (2012).

46.

Watts, S. C., Ritchie, S. C., Inouye, M. & Holt, K. E. FastSpar: rapid and scalable correlation estimation for compositional data. Bioinformatics 35, 1064–1066 (2019).

47.

Stein, R. R. et al. Ecological modeling from time-series inference: insight into dynamics and stability of intestinal microbiota. PLOS Comput. Biol. 9, e1003388 (2013).

48.

Fisher, C. K. & Mehta, P. Identifying keystone species in the human gut microbiome from metagenomic timeseries using sparse linear regression. PLoS ONE 9, e102451 (2014).

49.

Pammi, M., Liang, R., Hicks, J., Mistretta, T. A. & Versalovic, J. Biofilm extracellular DNA enhances mixed species biofilms of Staphylococcus epidermidis and Candida albicans. BMC Microbiol. 13, 257 (2013).
Acknowledgements
We thank all of the infants and their families who participated in the study; J. Xavier, J. Ordovas-Montanes, O. Cunrath and members of the Rakoff-Nahoum laboratory for discussions; and L. Martin for assistance with sample collection. K.Z.C. is funded by a Sir Henry Wellcome Postdoctoral Research Fellowship (grant 201341/A/16/Z) and a University of Manchester Presidential Fellowship; R.S.G. is supported by grants 1R01AI153257-01 and 5R01AI139633-03; and S.R-N. is supported by a Career Award for Medical Scientists from the Burroughs Wellcome Fund, a Pew Biomedical Scholarship, a Basil O'Connor Starter Scholar Award from the March of Dimes, P30DK040561, K08AI130392-01 and a NIH Director's New Innovator Award DP2GM136652.
Ethics declarations
Competing interests
C.R.M. receives grant funding from Mead Johnson Nutrition. C.R.M. also provides consulting services for Mead Johnson Nutrition, Alcresta and Fresenius Kabi, and sits on the Scientific Advisory Boards of Plakous Therapeutics and LUCA Biologics. All other authors declare no competing interests.
Additional information
Peer review information Nature thanks Jeff Gore and the other, anonymous, reviewer(s) for their contribution to the peer review of this work. Peer reviewer reports are available.
Publisher's note Springer Nature remains neutral with regard to jurisdictional claims in published maps and institutional affiliations.
Extended data figures and tables
Supplementary information
About this article
Cite this article
Rao, C., Coyte, K.Z., Bainter, W. et al. Multi-kingdom ecological drivers of microbiota assembly in preterm infants. Nature 591, 633–638 (2021). https://doi.org/10.1038/s41586-021-03241-8
Received:

Accepted:

Published:

Issue Date:

DOI: https://doi.org/10.1038/s41586-021-03241-8
Comments
By submitting a comment you agree to abide by our Terms and Community Guidelines. If you find something abusive or that does not comply with our terms or guidelines please flag it as inappropriate.