Conjugated sulfonamides have been demonstrated as cathodes with high redox potentials and exceptional atmospheric stability, providing a sustainable alternative to traditional inorganic materials used in commercial lithium-ion batteries.
Your institute does not have access to this article
Access options
Subscription info for Chinese customers
We have a dedicated website for our Chinese customers. Please go to naturechina.com to subscribe to this journal.
Buy article
Get time limited or full article access on ReadCube.
$32.00
All prices are NET prices.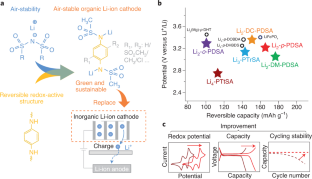 References
Lu, Y. & Chen, J. Nat. Rev. Chem. 4, 127–142 (2020).

Friebe, C., Lex-Balducci, A. & Schubert, U. S. ChemSusChem 12, 4093–4115 (2019).

Wang, J. et al. Nat. Mater. https://doi.org/10.1038/s41563-020-00869-1 (2020).

Jouhara, A. et al. Nat. Commun. 9, 4401 (2018).

Lakraychi, A. E. et al. J. Mater. Chem. A 6, 19182–19189 (2018).

Sieuw, L. et al. Chem. Mater. 32, 9996–10006 (2020).

Manthiram, A. Nat. Commun. 11, 1550 (2020).

Yang, C. et al. Nature 569, 245–250 (2019).

Lu, Y., Zhang, Q., Li, L., Niu, Z. & Chen, J. Chem 4, 2786–2813 (2018).

Poizot, P. et al. Chem. Rev. 120, 6490–6557 (2020).
Ethics declarations
Competing interests
The authors declare no competing interests.
About this article
Cite this article
Xie, J., Lu, YC. Towards practical organic batteries. Nat. Mater. 20, 581–583 (2021). https://doi.org/10.1038/s41563-021-00951-2
Published:

Issue Date:

DOI: https://doi.org/10.1038/s41563-021-00951-2
Further reading
Jiashen Meng
Lujun Zhu
Quanquan Pang

Science China Chemistry (2021)