An optimized drug-eluting polymer for the surface of articulating artificial joints may make them infection-free.
This is a preview of subscription content
Access options
Subscribe to Journal
Get full journal access for 1 year
55,14 €
only 4,60 € per issue
All prices are NET prices.
VAT will be added later in the checkout.
Tax calculation will be finalised during checkout.
Buy article
Get time limited or full article access on ReadCube.
$32.00
All prices are NET prices.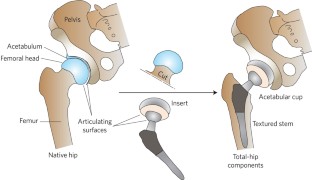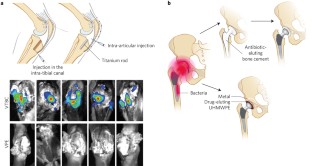 References
Glyn-Jones, S. et al. The Lancet 386, 376–387 (2015).

Otto M. Annu. Rev. Med. 64, 175–188 (2013).

Sharkey, P. F., Lichstein, P. M., Shen, C., Tokarski, A. T. & Parvizi, J . J. Arthroplasty 29, 1774–1778 (2014).

Kurtz, S. M., Lau, E., Watson, H., Schmier, J. K. & Parvizi, J. J. Arthroplasty 27, 61–65.e1 (2012).

Chen, A. F., Heller, S. & Parvizi, J. Surg. Clin. North Am. 94, 1265–1281 (2014).

Hickok, N. J. & Shapiro, I. M. Adv. Drug Delivery Rev. 64, 1165–1176 (2012).

Suhardi, V. J. et al. Nat. Biomed. Eng. 1, 0080 (2017).

Fink, B., Vogt, S., Reinsch, M. & Büchner, H. Clin. Orthop. Relat. Res. 469, 3141–3147 (2011).

Collier, J. P. et al. Clin. Orthop. Relat. Res. 414, 289–304 (2003).
About this article
Cite this article
Hickok, N. Joint implants: An elution solution. Nat Biomed Eng 1, 0087 (2017). https://doi.org/10.1038/s41551-017-0087
Published:

DOI: https://doi.org/10.1038/s41551-017-0087