This is a preview of subscription content
Access options
Subscription info for Chinese customers
We have a dedicated website for our Chinese customers. Please go to naturechina.com to subscribe to this journal.
Buy article
Get time limited or full article access on ReadCube.
$32.00
All prices are NET prices.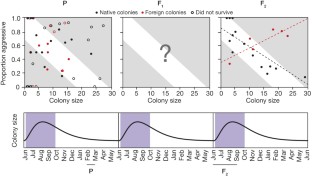 References
Pruitt, J. N. & Goodnight, C. J. Site-specific group selection drives locally adapted group compositions. Nature 514, 359–362 (2014)

Eldakar, O. T. & Wilson, D. S. Eight criticisms not to make about group selection. Evolution 65, 1523–1526 (2011)

Marshall, J. A. R. Group selection and kin selection: formally equivalent approaches. Trends Ecol. Evol. 26, 325–332 (2011)

Rainey, P. B. & Rainey, K. Evolution of cooperation and conflict in experimental bacterial populations. Nature 425, 72–74 (2003)

Kerr, B., Neuhauser, C., Bohannan, B. J. M. & Dean, A. M. Local migration promotes competitive restraint in a host-pathogen 'tragedy of the commons'. Nature 442, 75–78 (2006)

Grinsted, L. & Bacon, J. P. Animal behaviour: task differentiation by personality in spider groups. Curr. Biol. 24, R749–R751 (2014)

Jones, T. C., Pruitt, J. N. & Riechert, S. E. Reproductive success in a socially polymorphic spider: social individuals experience depressed reproductive success in isolation. Ecol. Entomol. 35, 684–690 (2010)

Moczek, A. P., Hunt, J., Emlen, D. J. & Simmons, L. W. Threshold evolution in exotic populations of a polyphenic beetle. Evol. Ecol. Res. 4, 587–601 (2002)

Culumber, Z. W., Bautista-Hernandez, C. E., Monks, S., Arias-Rodriguez, L. & Tobler, M. Variation in melanism and female preference in proximate but ecologically distinct environments. Ethology 120, 1090–1100 (2014)

Weider, L. J. et al. Genotype × environment interactions, stoichiometric food quality effects, and clonal coexistence in Daphnia pulex . Oecologia 143, 537–547 (2005)

Fitzpatrick, M. J., Feder, E., Rowe, L. & Sokolowski, M. B. Maintaining a behaviour polymorphism by frequency-dependent selection on a single gene. Nature 447, 210–212 (2007)

Furey, F. E. Two cooperatively social populations of the theridiid spider Anelosimus studiosus in a temperate region. Anim. Behav. 55, 727–735 (1998)

Watts, J. C., Ross, C. R. & Jones, T. C. Diel and life-history characteristics of personality: consistency versus flexibility in relation to ecological change. Anim. Behav. 101, 43–49 (2015)

Abbot, P. et al. Inclusive fitness theory and eusociality. Nature 471, E1–E4 (2011)

West, S. A., Griffin, A. S. & Gardner, A. Social semantics: how useful has group selection been? J. Evol. Biol. 21, 374–385 (2007)
Ethics declarations
Competing interests
The authors declare no competing financial interests.
About this article
Cite this article
Grinsted, L., Bilde, T. & Gilbert, J. Questioning evidence of group selection in spiders. Nature 524, E1–E3 (2015). https://doi.org/10.1038/nature14595
Received:

Accepted:

Published:

Issue Date:

DOI: https://doi.org/10.1038/nature14595
Further reading
Mackenzie E. Hewes
Kayla Delventhal
Johel Chaves-Campos

Journal of Ethology (2017)

Zachary Shaffer
Takao Sasaki
Jennifer H. Fewell

Scientific Reports (2016)

Jonathan N. Pruitt
Charles J. Goodnight

Nature (2015)
Comments
By submitting a comment you agree to abide by our Terms and Community Guidelines. If you find something abusive or that does not comply with our terms or guidelines please flag it as inappropriate.