The incoming Afghan government must allow immunizations
Since the Taliban retook Afghanistan last month, I've been worrying about the resurgence of polio and other diseases there and beyond.
Children's and women's health was already precarious in Afghanistan, despite fragile gains in the past two decades. I fear that it will now get precipitously worse. That would be a local humanitarian disaster with global implications. Both polio and COVID-19 infections in Afghanistan could spread to neighbouring countries. Until transmission is interrupted, the entire world is at risk.
As of 25 August, the World Bank and the International Monetary Fund have suspended funding from development funds committed to Afghanistan, and the United States has frozen nearly US$7 billion of Afghan government funds. There is now no money to pay non-governmental organizations (NGOs) and health-care workers who deliver basic health services. The country's stockpile of about three million doses of COVID-19 vaccines seems likely to expire. To avert the collapse of public-health programmes, leaders must engage with the Taliban running the country.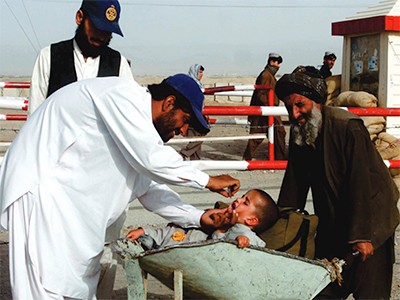 Polio eradication hinges on child health in Pakistan
I am the founding director of the Centre of Excellence in Women and Child Health at the Aga Khan University in Karachi, Pakistan, which includes a teaching hospital in Kabul; my group has worked across Afghanistan to monitor polio exposure and to improve health and nutrition for mothers and children.
At the turn of the century, fewer than one-third of Afghan children had received any immunizations. One of the earliest acts by United Nations agencies after the overthrow of the Taliban in 2001 to launch nationwide measles-immunization campaigns, which targeted 17 million children. In 2002 and 2003, the campaigns vaccinated 96% of the targeted population. That expanded into more preventive health services; by 2014, rates of childhood immunizations doubled to about 60%, although this figure hid huge disparities between urban and rural populations.
As the Taliban gained more control across the country, they banned door-to-door visits by polio workers. Cases in Afghanistan tripled between 2018 and 2020. Approximately three million children, a third of those eligible, were thus left out of vaccination campaigns. At least eight vaccinators and polio workers were killed by unidentified gunmen in several attacks this year.
The global research community must not abandon Afghanistan
But the Taliban's objections to these health services were due to its perception that such home visits were being used as a front for intelligence gathering and potential air strikes. Although the US Central Intelligence Agency did collect information to target Osama Bin Laden using fake vaccination workers in 2011 (with catastrophic implications for trust in such a crucial arm of global public health), there is no clear evidence for more recent allegations of similar activities. Some restrictions on house-to-house vaccination campaigns were softened in 2019 (although COVID-19 lockdowns subsequently halted many efforts). I am optimistic that Taliban leaders could be persuaded to permit vaccinations again.
The Taliban now running the country has an opportunity to show a pragmatic, reformist face to the world and people of Afghanistan: it needs to run the health system, to care more about protecting women and children than obsessing about spies and political opponents. It should honour its stated commitment to allow female health-care workers and educators to continue working, for girls to get back to school and for the polio-immunization programme to resume.
The infrastructure for immunizations exists. In early -September, the World Health Organization tallied its polio workers and estimated that 90% of the more than 2,000 health facilities were still (somewhat) operational.
Starting in 2018 with $35 million from the World Bank's Global Financing Facility, as well as a $140-million World Bank loan, Afghanistan created a $600-million, 3-year programme to support family planning, health and nutrition services in 34 provinces of Afghanistan. Even with the deteriorating security situation, health-care visits for children under 5 increased by 25% and newborn vaccinations by 8%.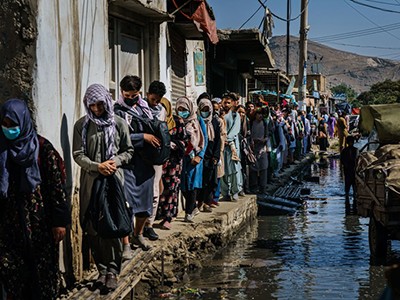 Afghanistan's terrified scientists predict huge research losses
Frozen assets are unlikely to pressure the Taliban into any major change in its policies. Global organizations should continue supporting the NGOs and existing primary-care workers and programmes on the ground. There has been a promising confluence of neighbouring and friendly countries helping to stabilize Afghanistan's infrastructure (such as airports) and providing other support through a $1.2-billion emergency fund, to help Afghans without food, health care or protection. Already, at least one-third of Afghans who are facing hunger. Funds are urgently needed to help secure food supplies through the winter, reopen financial services such as banks and let the estimated 500,000 people displaced this year return to their homes.
Countries should formalize their support, and include provisions for health care in the agreements. Critics protest that nothing should be done to legitimize the Taliban, and that their word (particularly regarding women and girls) cannot be trusted. Although international pressure and scrutiny are essential, the best strategy is to engage with the Taliban to scale up vaccination and health services.
I travelled through Afghanistan in the early 1970s, -tracing family links to Ghazni. I was struck by the resilience and -hospitality of a proud people, despite grinding poverty and inequity. They deserve unfettered support in this hour of need.
Nature 597, 595 (2021)
doi: https://doi.org/10.1038/d41586-021-02557-9
Competing Interests
The author declares no competing interests.