How Zoom helped the neurotypical world hear my autistic voice
Problems with language and communication are often one of the hallmarks of autism, and as an autistic person, face-to-face conversation has never been a strength of mine. Facial expressions confuse me, and different tones of voice alarm me. Body language is baffling; inference is difficult. I don't get most jokes, and I make less eye contact than others.
As a child, I would swing from babbling to my parents about my special interests until I was breathless to spending entire days at school without uttering a single word to anybody. This remained much the same when I continued on to higher education; in the few face-to-face tutorials that I attended during my distance-learning undergraduate studies at the Open University, I was invariably overwhelmed, often mute and always eager to return home and hide behind the safety of my laptop screen. And for the first two years of my postgraduate degree, I would regularly forgo heading to campus over fears that I would encounter someone else in the department who wanted to talk. At conferences, while everyone else was chatting over coffee, the only hobnobbing I did was with the complementary oat biscuits in a hidden corner or quiet room.
Even during group meetings with my own supervisors, who knew me better than anyone else, I struggled. I embarrassingly found myself blurting out my ideas while others were mid-sentence. Yet when I was invited to speak, I often clammed up and couldn't find the words to match the thoughts in my head.
Pivot to video
But on 26 March 2020, all that changed. It was three days into the first UK coronavirus lockdown, and my lead supervisor had e-mailed me after the sudden campus closure. Obviously, we couldn't have our weekly supervisions in the office for a while, he wrote, but something that we can do is Zoom each other. Let me know what you think — maybe we could try it next week? But no rush, only when you're ready for it.
This scared me: talking face-to-face was torturous enough, how could I ever manage a virtual conversation with software I had no experience of using? I tried to think of ways I could get out of this situation but, invariably, I found myself stuck; the pandemic and lockdown weren't going away any time soon, and e-mails alone couldn't fill the void left by suspended supervision meetings. I had to muster up the courage to restart the dialogue if I was to continue with my PhD.
Collection: Careers toolkit
So the following week it was with great trepidation and anxiety that I found myself clicking on the 'join' icon of my first virtual meeting. The screen was black like a theatre curtain about to be lifted on the opening night of my debut Zoom performance, as I waited backstage for the ominous 'host' to let me in. Suddenly the screen changed and both my supervisors were right there in front of me … except they weren't. They were little videos; unfrightening, harmless and firmly fixed within the confines of my screen.
"Hi, can you hear me okay?" said one.
"Oh hey guys, let me just move my laptop here … sorry I'm still getting used to this videoconferencing lark!" said the other.
"It's okay I'm getting used to it, too, it's my first time" said … me!
I was shocked: it usually took a direct question from my supervisors or a considerable amount of prompting to get me to speak in meetings. Yet here I was, speaking, quite naturally, by myself.
An easier way to talk
After that, as the conversation developed, I found myself growing to like this new method of communicating. I no longer had to grapple with eye contact and body language: all I needed to do was look at the screen! And because only my head and shoulders were visible, I could stim freely without feeling embarrassed, guilty or ashamed. (Stimming is performing repetitive movements as a way to ease anxiety and release tension; I sometimes flap my hands, gently rock my body or twirl my feet in circles.)
What's more, I found the intrinsic time-lag in video calls was not only useful for structuring conversations, it also bought me precious extra seconds of processing time to help keep pace.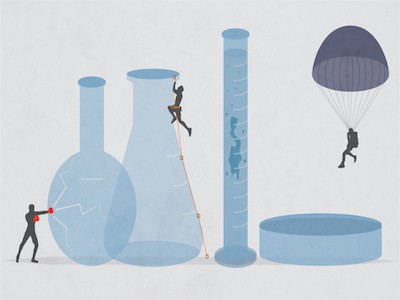 Collection: Work–life balance
But most of all, I found that on Zoom I didn't have to continually battle with the many sensory stimuli that I found so overwhelming in conventional conversations. I didn't have to contend with the stuffy air in the office or the background noise outside. Of course there was noise: at home, I could hear the thrum of traffic, intermittent police sirens and bird song during the video call, but it was manageable noise that was a familiar part of my everyday life.
Soon our half-hour meeting was up, and I found myself waving, smiling and looking forward to meeting my supervisors again in two weeks, rather than performing my typical rushed exit, a 'goodbye' murmured over my shoulder as I legged it out of the office.
Opening up
Since that first meeting, I have had countless video calls. I have met more new people this year than in the past 20 years. I have networked and made contact with some truly remarkable researchers. I have presented at conferences with international audiences and even taken part in panel discussions.
And my use of Zoom hasn't just been limited to work purposes: it has enabled me to network and socialize with others outside work. Thanks to Zoom, I now have acquaintances from around the world with shared interests and experiences — from other autistic LGBT+ people to minority-ethnic geoscientists to fellow disabled PhD students.
That's not to say that videoconferencing has been perfect -— far from it. I still get extreme anxiety before every conversation and catch myself stuttering during calls, and afterwards I find myself replaying all the silly things I said and the mistakes I made. I'm still exhausted after every interaction and have to have lots of quiet time on my own so I can recover sufficiently to share my stories with my carers. And I don't think anyone, autistic or neurotypical, enjoys being 'stood-up' on Zoom.
But overall I would say that communicating in this manner has improved me as an early-career researcher, as a collaborator and as an acquaintance to others.
What Zoom has taught me more than anything is that autistic people have a voice. It might not be the loudest, the sweetest-spoken or the easiest to understand. It might be buried so deep within that it can never be expressed verbally or else takes many years to come to the surface. But it's there. And if the neurotypical world can make the effort to keep exploring alternative methods of communicating with us — be it through artwork, objects, pictures, audio recordings, messaging, apps, social stories, written words or, in this case, videoconferencing — it just might be pleasantly surprised by what it hears.
doi: https://doi.org/10.1038/d41586-021-02325-9
This is an article from the Nature Careers Community, a place for Nature readers to share their professional experiences and advice. Guest posts are encouraged.
Competing Interests
The author declares no competing interests.