Radio days: science-communication tips from a panel-show scientist
In October 2018, I was invited to join a panel discussion about the impact of friendships on health on Today with Claire Byrne on Radio 1, published by my country's national broadcaster, RTÉ.At the time, I was on maternity leave and was delighted to have an opportunity to discuss research again. The producers had approached me after they saw my quote in a print piece on the topic of my research. For the panel discussion, they asked me to travel to the studio — a 2-hour drive away. It was my first media appearance, but I didn't feel nervous; the logistics of travelling with a baby were enough of a distraction.
I wrote some notes for the producers in advance, and they shared the host's brief with me, which contained the other panellists' notes. This way, I'd have a rough idea of what to expect on air. I was ushered into the studio during an advertisement break and only then began to feel nervous, but the conversational style of the discussion helped to put me at ease.
Since then, I've joined a 15-minute monthly panel discussion, hosted by Claire Byrne, alongside a medical doctor. We discuss topics that are broadly related to my research interests in social connectedness and health. The show reaches 350,000 listeners — more people than will ever read any of my journal articles.
Here are some of the lessons I've learnt in reaching that audience.
Just say yes
If somebody from a television or radio station, newspaper or magazine asks you to chat about science, they probably found you because of your profile and expertise in your field.
I'd recommend just saying yes if you are approached: communicating science to the public should be a priority for scientists. The public contributes to our research, either directly as participants or indirectly through taxes and donations. Fifteen minutes on the radio is a simple way to give something back to the public.
The questions that media ask scientists are often phrased a little differently from what we're used to.
For example, a journalist contacted me to discuss the "friendship recession" during the pandemic. Although I was very familiar with research on loneliness during the pandemic, I had not heard of or even thought about a friendship recession. I told them so, but also shared what I did know about the broader topic. (The friendship recession, I now know, is a media-friendly way to refer to the fall in the number of close friendships in society.) If you genuinely don't have relevant knowledge, recommend a colleague whose expertise needs amplifying.
If you're still uncomfortable, seek out training — your institution's research office probably runs communication workshops.
And if you feel nervous, let the producers know, or ask for a list of potential questions beforehand if they haven't already given you one.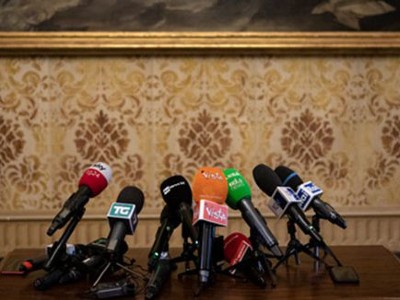 Collection: Science communication
Are you discoverable? You need to be findable, not just to academics in your area, but also to journalists and producers who won't use the same search terms. My research broadly relates to social connectedness and health, but a journalist is more likely to search for 'relationships' or 'friendships' than 'connectedness'. Does your webpage have the right keywords for a lay audience?
Language matters
This attention to language extends beyond your webpage. I once listened to a chemist talk about a "solution". I'd guessed he that he probably meant a liquid mix of substances, but others might have thought he meant "answer". I try to avoid using niche terminology on the radio, especially terms that have two meanings.
If I really need to, I have a very brief definition ready; for example, loneliness and social isolation are often conflated, so I always explain that loneliness is not the same as social isolation and that a person can have many friends and still feel lonely. However, I strictly ration the number of definitions per discussion; one might be inevitable and two is acceptable, but that's usually enough.
Communicating uncertainty
If I could have one science-communication superpower, it would be the ability to impart uncertainty in science. Often, the answer to a question is: "We don't quite know yet." This is something I think must be especially frustrating for scientists now, because we face so many continued unknowns during the coronavirus pandemic.
As scientists, we know the importance not just of what we know, but also of how we know it. I usually want to tell listeners all about the methods and limitations of our methods, but if I delve too deeply into the technical details, I will lose both the interviewer and the audience.
Over time, I've constructed brief phrases to capture just a little bit of uncertainty and process, such as:
• "We've only just started to see studies exploring this."
• "The number of studies demonstrating this effect is quite small."
• "Recent research has made us rethink what we know on this topic."
Rather than get caught up in caveats early on, I also revert to uncertainty and process once the audience has had a chance to understand the science.
For example, in a discussion about living in blended families (those with children from previous relationships), I wanted to get across that we can never randomly assign people to live in a blended family, so we can never be entirely sure that the 'effects' of living in a blended family are true effects. It's quite likely that other stresses associated with living in a blended family are more important than the blended family structure itself. I emphasized this in my take-home message, highlighting that the efforts parents make to reduce stress in their blended families are worthwhile for their children in the long run.
The benefits work both ways
I initially viewed the radio panel as a chance for me to talk about my interests, but I've come to learn that engaging with the public can truly take you out of your research and into the world of those it is intended to benefit: connecting with the public has changed the direction of my own research.
Listeners getting in touch with the show have given me a real insight into their lived experiences of loneliness, their mental health and the complex dynamics of social relationships.
For example, several of our conversations have touched on loneliness during younger and older adulthood. Developmental psychologists know that having relatively large social circles is developmentally normal and appropriate for young adults, so the COVID-19 restrictions had a negative impact on mental health in young people. Conversely, although older adults were often viewed as being universally lonely during this time, listeners to the show described quite a bit of variability in experiences of loneliness. This has led me to develop a research project specifically exploring loneliness in young adulthood, and to develop lay summaries of my process and findings.
These unexpected moments of learning happen all the time in science communication, and collectively they help me to think about my research from an entirely different angle. Our radio panel isn't just for me to impart what I know: it's for me to hear what the public thinks, and my research is all the stronger for that.
doi: https://doi.org/10.1038/d41586-021-02133-1
This is an article from the Nature Careers Community, a place for Nature readers to share their professional experiences and advice. Guest posts are encouraged.