How to manage the uncertainty of a remote PhD
In June 2020, I was offered a PhD position in Australia. The problem was, I live in Singapore, and strict pandemic travel restrictions meant I couldn't enter Australia. So my supervisor, genetic engineer Rick Liu at the University of Tasmania in Hobart, raised the possibility of me doing my PhD remotely, until restrictions were lifted.
I began my programme in December 2020, studying the use of gene-editing technology to reduce vision impairment and blindness. I still haven't met Rick in person or moved to Australia. But we have found ways to make progress and get results — including publishing a paper1, with another on the way. I've found ways to be a scientist without laboratory access, and working from home is no less interesting.
Here are some of the lessons I've learnt so far.
Appreciate the positives
When I first started my PhD, I worried about still being at home, and constantly checked whether the borders were reopening. But as time went on, I learnt to see positives. Working from home removes the stress of living as an international student in a foreign country. I don't have rent to pay, which saves half my scholarship stipend, and I am grateful to be with my parents during the pandemic. As a result, my household chores are not as time-consuming and I haven't had to cook for myself. Eating out is also drastically cheaper in Singapore than in Australia.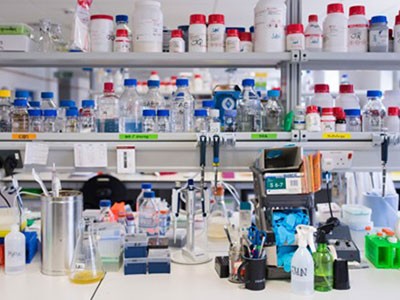 Collection: Career resources for PhD students
It is natural to constantly be anxious about when you might be able to start lab work on campus. I wasted a lot of valuable time worrying about this. My supervisor was really helpful in sharing what he expected from me, and what the university expected of my progress. I learnt the importance of not comparing my progress to that of others in different circumstances.
Get into a routine
During the first few months of my PhD, when I reviewed the literature and developed my project plan, I simulated working life by spending mornings at the library. I spent a good three hours there every day, reading and writing, studying and working. This allowed me to make consistent progress.
Technology lets me take part in other aspects of scientific research remotely. This includes brainstorming ideas, designing experiments, analysing data, maintaining the lab inventory, and writing manuscripts and grant applications. Preparing myself through these activities will, I hope, put me in a better place when I do start lab work. On-campus students spend the majority of their day in the lab and do not get the time to train themselves in other tasks.
Use your extra time
I meet my supervisor over Zoom once a week. He advises me to use my offshore time wisely. He says I will have less time once I am in Australia doing lab work, and he suggested I enrol in online data-analysis courses. I am also due to complete my PhD coursework requirements by the end of the first year.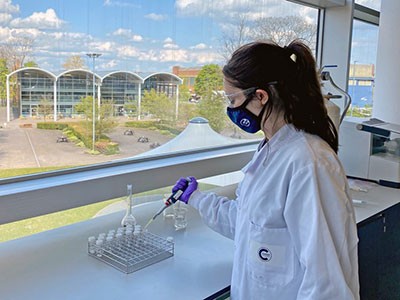 Six lessons from a pandemic PhD student
I use the app Researcher to stay on top of the scientific literature, and receive e-mail alerts from Google Scholar and other science databases. My supervisor and I discuss some of the major concerns that authors are addressing in articles; this makes for productive meetings.
Working abroad also means I can assist with reviewing other students' written works. My lab currently has an undergraduate honours student, whose thesis had to be reviewed. My supervisor asked me to help with this task.
Prepare a solid plan
Australia is in no hurry to open international borders, so my supervisor and I decided to develop our project plan and get the materials ready so that when I do travel, we are only left with the lab work to obtain our results. My first task will be to do animal work based on the methods article we have just published: I've designed the experimental plan and listed all the required materials. I have also completed two online data-science courses and two computational-modelling courses to be better prepared for the data-analysis side of my project.
Rethink the PhD
The first year of a PhD programme involves planning the project and training yourself in the skills required. In the future, it might be possible to restructure it so the first year does not require on-campus study. This could reduce expenses, as it has for me, and could help with planning the project in more detail.
Perhaps all we need to create a successful PhD project is a good, willing supervisor and an Internet connection.
This pandemic has led me and my supervisor to make drastic changes and carefully plan our projects to avoid further hold-ups in our work. This has taught me how rigorous planning can steer projects productively, whatever the circumstances.
I have yet to see my supervisor in person, but I believe we have managed a productive PhD journey thus far.
doi: https://doi.org/10.1038/d41586-021-02001-y
This is an article from the Nature Careers Community, a place for Nature readers to share their professional experiences and advice. Guest posts are encouraged.
References
1.

Chuang, Y.-F. et al. Front. Cell Dev. Biol. 9, 667879 (2021).
Competing Interests
The author declares no competing interests.